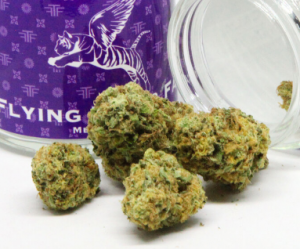 Cannabis Flowers at Legal Cannabis Dispensary, Sunalnd, LA
Ingredients
1/8 ounce cannabis
Pantyhose or cheesecloth (DIY tea bag, whichever is cheaper)
1 bottle white rum
3 mangoes
1 pound strawberries
1 cup sugar
1 cup water
1 bottle Sauvignon blanc
1 cup fresh orange juice
2 cups club soda
Preparation
Step 1
Decarb 1/8 ounce cannabis in the oven at 240 degrees for 30 to 40 minutes to activate the THC. Grind cannabis.
Step 2
Using a pantyhose or cheesecloth, make a DIY tea bag filled with cannabis grounds.
Step 3
Insert the DIY tea bag inside a bottle of white rum. Close the lid, and refrigerate for 24 to 48 hours. If you refrigerate for 7 days or longer, it will extract more THC out of the bud.
Step 4
Cut the strawberries in half, and remove stems. Dice the mangoes.
Step 5
In a saucepan, combine sugar, water, and half of the halved strawberries. Bring mixture to a boil, then let simmer, stirring occasionally. Let cool. Then using a sieve, strain the strawberry syrup. Place the syrup in the refrigerator to cool.
Step 6
In a pitcher, combine mangoes and the remaining strawberries. Add strawberry syrup, 1 cup cannabis rum, Sauvignon blanc, and fresh orange juice, then mix together. Refrigerate for 4 hours.
Step 7
When you're ready to serve, add 2 cups club soda. Pour into glasses, and spoon in fruit. Top with more soda. Serve.